I've always been curious about borscht. Recently, my interest has been piqued because I've been seeing borscht in a jar on the shelf of the local grocery store and it has been prominent in episodes of The Americans. On top of that, the Russians sent it to space! It must be something worthwhile: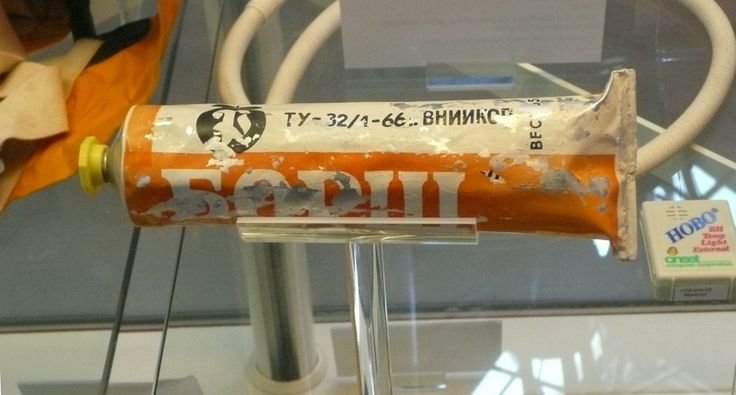 I decided I did not want to try the borscht in a jar though. It looked like a less-than-optimal experience, like when I decided on a whim that an American supermarket would be a good place to try sushi.
So I decided to make some borscht. Maybe that sounds less than optimal too... it turned out quite good though.
Reading about borscht I'd come across the use of sweet potatoes as an ingredient. So I decided that was a good excuse to experiment with purple sweet potatoes. Then I decided on red cabbage because why shouldn't everything be red? I did this on the fly, but here is the rough ingredient list:
Ingredients
6 beetroots
5 medium purple sweet potatoes
1 head read cabbage
1 red onion
3 shallots
3 cloves garlic
1 carton beef stock
1 carton vegetable stock
2 sliced beef hearts
1 package bacon
1 pint half-and-half
I peeled, sliced, and roasted the beets and sweet potatoes at 400° Fahrenheit.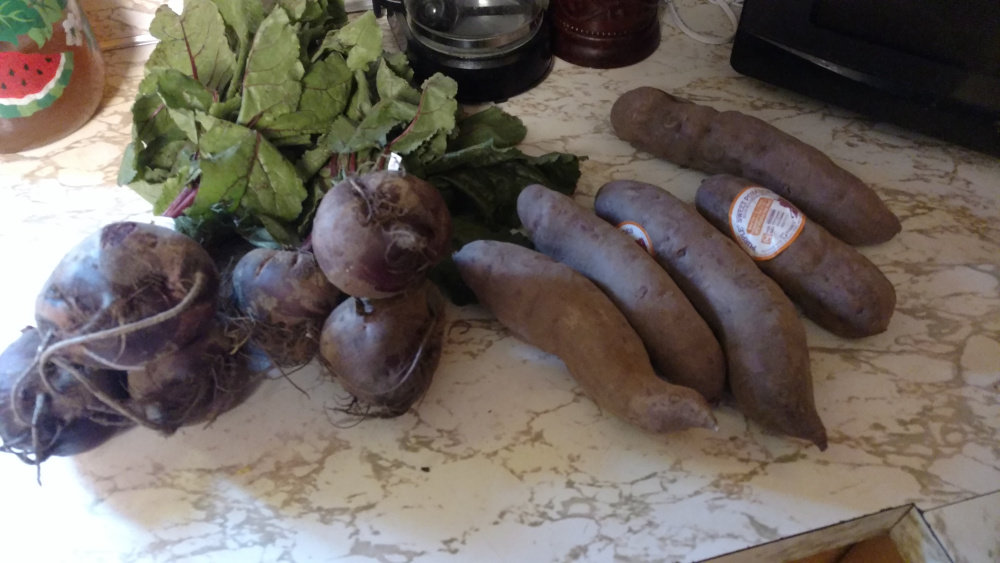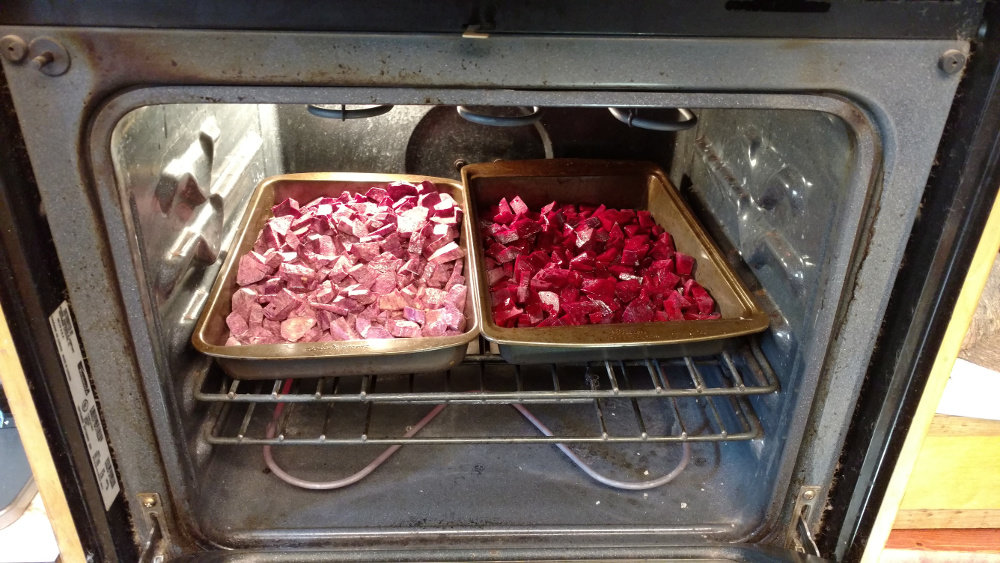 While those cooked, I sliced and sautéed the red cabbage in butter, seasoned with salt and pepper. I then set it aside.
The beef heart I cut into stew chunks. Meat is not necessary for borscht, but it is necessary to me. I fried that with diced onion, shallots, and bacon in the bottom of the stock pot. When the onion and shallots caramelized, I added the beef stock and then then the vegetable stock.
After bringing the broth up to a simmer, I added the cabbage and let it break down for a little bit before added the sweet potatoes and then the beats. After a few more minutes I added in the half-and-half and stirred for several minutes to integrate it without curdling.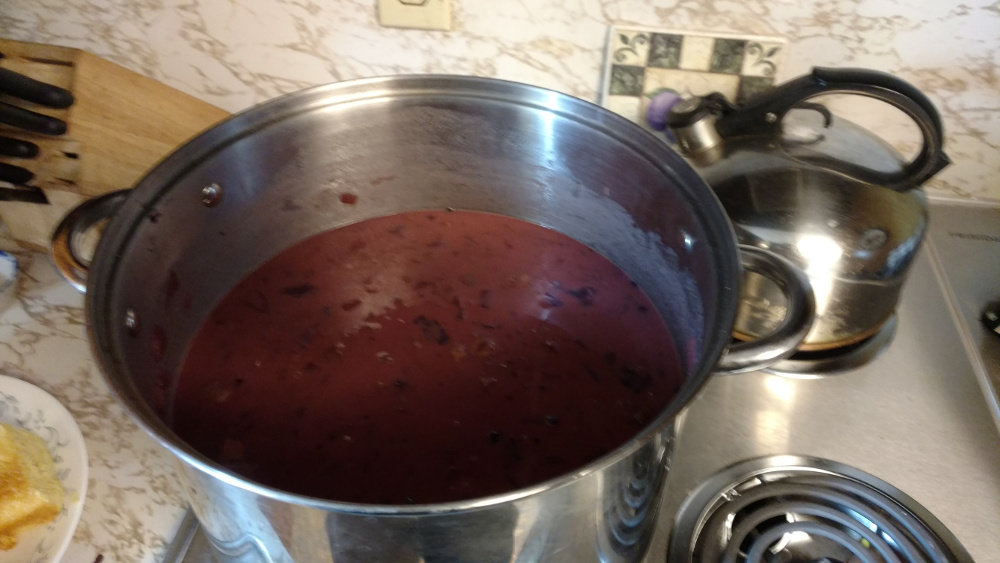 Borscht is often served after allowed to cool, so I chilled it down some with ice.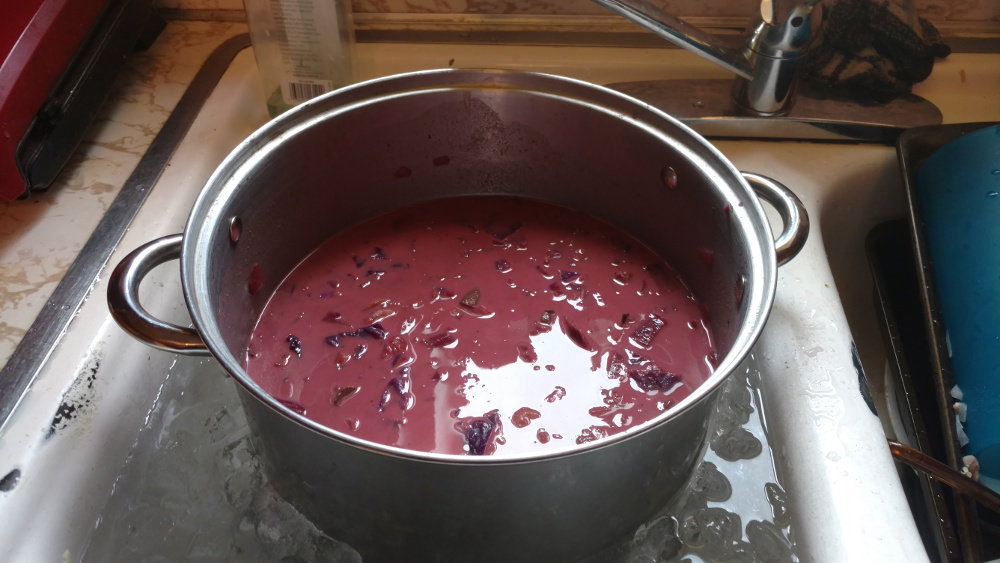 The final result, served with sour cream:
I was pretty pleased with the result, especially the color. The response of my family members was so-so. My brother and mother enjoyed it, the niece and nephew did not, my dad refused to touch it. This recipe made an enormous amount and I ended up eating it for three days. I don't regret that at all.