Today, I finished building myself a medicine cabinet:
I achieved a rustic look, which suits me fine.
Recently I've grown fed up with bathroom clutter. It makes it harder to clean my bathroom counter if I have to move a lot of items. So I decided to build a medicine cabinet.
(The pre-medicine cabinet dark age of bathroom clutter)
I took a plan from Design Confidential as a starting point and heavily modified it. Basically I kept the idea of using a 1x6 for the frame. I decided to run legs down to the counter, since I don't have a good stud to anchor a floating medicine cabinet. The legs bear the weight and the top is anchored in dry wall to prevent tipping. I also notched the legs to conform to the rim of the counter. And I cut a hole in the left leg to preserve access to the outlet.
I spent most my time fretting over the door. I really wanted a mirrored surface, since the combination of the wall mirror and the door mirror would let me see more of the back of my head. I didn't want to pay out for mirror though, or buy mirror tiles and have a ten-pack of them in need of more projects.
I bought a smallish wall mirror at the Alco-pocalypse, but when I tried to remove it from its mirror I shattered it. Previously I'd picked up some cheapo picture frames at the Dollar Store and still had the glass around, as well as some molding from another project. So I decided to make a black mirror.
Pre-Columbian cultures would use polished onyx as a mirror and I've heard that polished jet was similarly used in Europe. For my project I just spray painted the back of the glass with glossy black lacquer. The result is like a tablet or smartphone screen.
On top of that, I etched the glass. Since it was for a medicine cabinet I used square cross and an apothecary's mortar-and-pestle symbol, along with my monogram. It came out pretty well, though I probably should have bought more etching cream to reduce the blotchiness.
The overall effect suits me though. I might be tempted to use the black mirror method again, for kitchen cupboards or a chess board perhaps.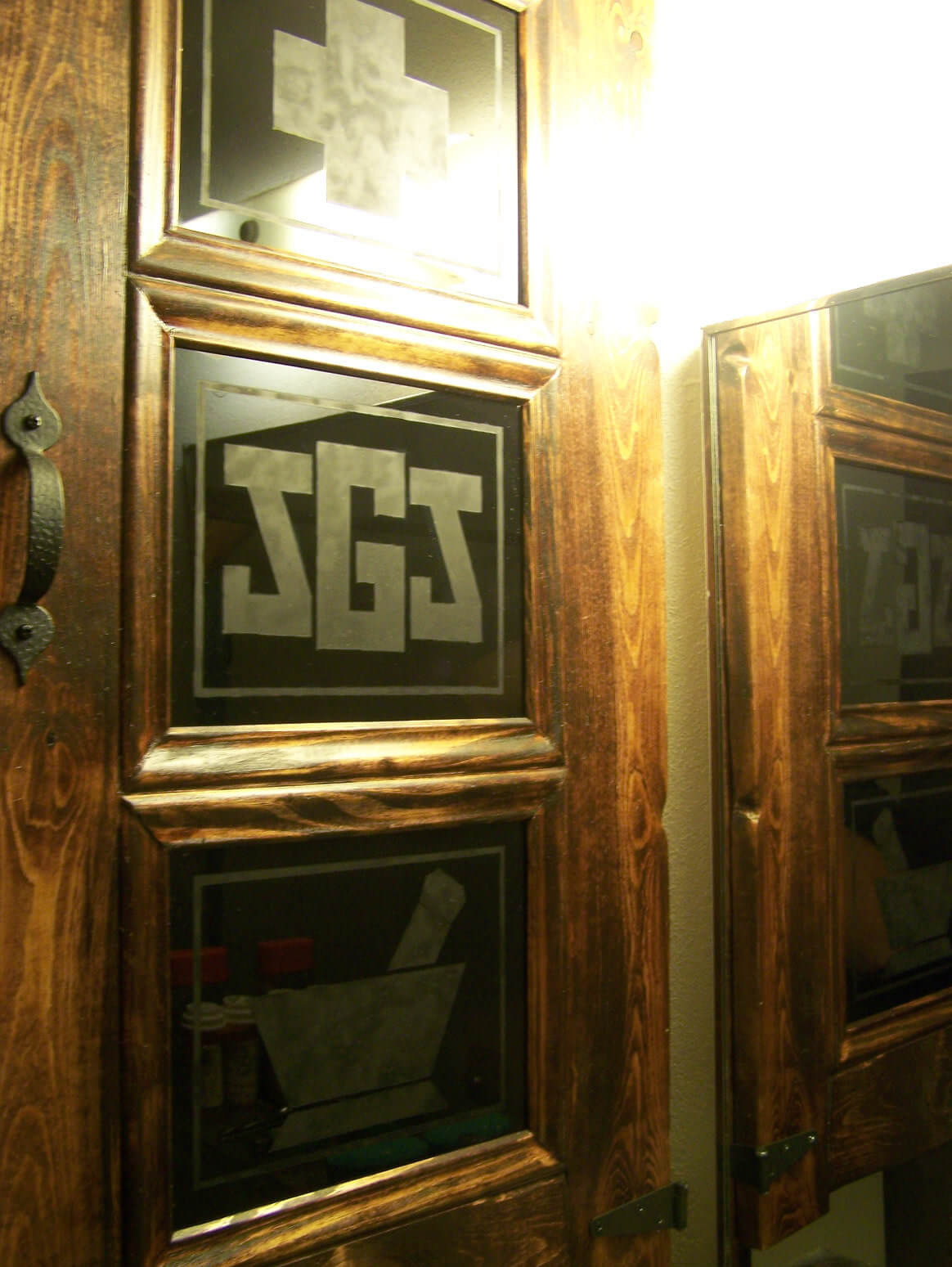 It's pretty spacious inside, too:
Though maybe I made it too tall; I feel kind of like a child reaching up for the handle or the top shelf.